HC Slovan Bratislava

HC Vítkovice Ridera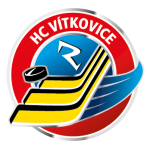 HC Slovan Bratislava: Panáček (Henriquez) – Fajnor, Chalmovský, Mlata, Rusznyák, Šramatý, Tomaškovič, Zrnčík – Antal, Bacigál, Bohoš – Čič, Hurtaj, Jánošík – Petráš, Saloň, Slovák – Šatan, Šurlák, Taliga – Vida
HC Vítkovice Ridera: Vávra (Vilém) – Blanár, Čuba, Fojtík M., Glos, Kisza, Krpec, Man, Zvejška – Douda, Drábek, Fasner – Fojtík V., Hanák, Hofman – Lerch, Matějka, Muroň – Nazad, Sedlák, Žídek
Goals and assists: 46. Číč – 20. Zvejška, 22. Fojtík, 40. Nazad, 44. Douda, 51. Žídek, 57. Nazad

Penalties: 0:0. PP goals: 0:0. SH goals: 0:0.
Report
Vítkovice did not allow any drama in their last match of the regular season of this year's President Cup and claimed their second victory. Although the first goal was scored by the Ostrava team only at the end of the first period. The goal in the locker room eroded Slovan. And Vítkovice used their psychological advantages in the second act. Thanks to Fojtík and Nazda, they increased their lead to three goals. And even Bratislava's Panáček can be thankful that Fojtík hit the post face-to-face. Douda's attempt was then caught by the Bratislava goalkeeper.
The same player broke his shooting luck only in the 44th minute, when he increased the score to 4:0 for Ostrava with a shot from the right circle. Slovan was reduced after all, when he surprised Vávra Číč in the 46th minute. But that was all from Slovan. Vítkovice controlled the match, in the last part they added two more goals thanks to Žídek and Nazad.